According to Mettl's State of Talent acquisition survey 2018, technical hiring was one of the leading challenges for recruiters.
You might relate to this when you spend hours searching for that one Java developer or senior architect you never seem to pinpoint. Start-ups and big companies both have their own share of disturbances and battles to fight. The disputes form the foundation of the hiring process, but the elements in the challenges vary accordingly.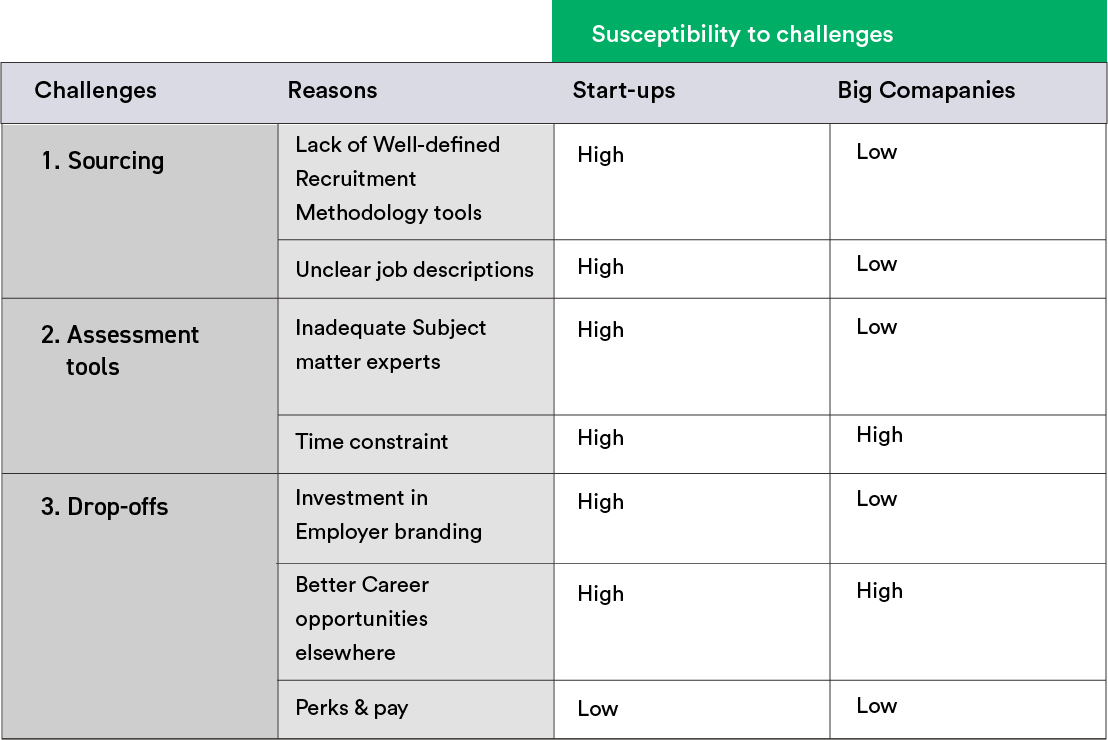 Sourcing
Sourcing is about building a pool of candidates to choose from. It is not only about name generation but an integral part of any organization's recruitment strategy so that the best of active and passive can be found. Companies source via-
Social media

has acquired an important place in sourcing strategies. LinkedIn has become all the rage in recent years. Recruiters "camp-out" on Internshala, LinkedIn hoping to find their perfect match.

Sourcing through referrals seems to be an age-old practice but still has its position intact. The

employee referral programs

where employees are paid a bonus if the person gets hired is a viable technique.

Some companies rely on

third-party recruiters;

they are the ones with the special knowledge and skills and take control of the entire sourcing process.

Job postings

attract active job seekers, but they miss out on the passive ones.
With the trends of globalization, automation, and digitalization, this first step of the recruitment process seems to be the biggest challenge that recruiters face. Here is a breakdown of what affects sourcing the most.
Recruitment Methodologies
The Challenge
Market research-

Before we get on the field to find our match, let's talk about the groundwork we did. A thorough study of the market, i.e. the people we aim to target is a must. This quality of gathering information about the prospects, to

analyze

their preferences and needs, helps to maintain the competitiveness over the competitors. But given the hectic work management of start-ups, where everything needs to be done quickly, they do not invest much in this.

Right tools-

Companies as well as start-ups find it difficult to understand the right tool to leverage, should they go for campus hiring or a Careers page will suffice their needs.

Consultants & social media presence-

The dearth of Special consultants, who can improve the sourcing process is also an obstacle that start-ups need to fight. These consultants are the ones with the required knowledge and a complete understanding of which tool would fit where and how. These advisors understand the need for a careers page and how much it is required to have a strong social media presence

.

With digitalization, the world has shifted online and so shall the recruiters.  But still, there is a gap

that persists.
The Solution
Your sources may vary according to your identity. For large companies with a significant amount of hiring requirement every year, the best way to source a large number of candidates would be through online job portals like Naukri, or external hiring agents. For a relatively smaller company, an external hiring agency proves quite expensive.
Here is a chart that defines your sources based on how suitable a source is for your company and why.
Sourcing techies is a team effort, an active presence on specialized websites like Github, Stack Overflow, LinkedIn will improve your chances to find the talent pool manifolds.
Hackathons are also great places to engage with tech talent; going to the right events at the right time would not add to too much cost. Hit the bull in the eye by skillfully building the talent pipeline.
Last but not the least a quick recap of what to look at when deciding your share of candidates, whether you want the active ones or the passive, save time and effort by keeping these guides in mind.
Job Application & Description
The Challenge
An effective job description is a cornerstone on which a recruitment strategy is built. A major reason for ineffective hiring can be pointed at old, outdated job descriptions with a very general discussion of tasks. An incomplete description with just responsibilities and roles, not articulating the required attributes is a matter of concern for start-ups. A poor job description can set into action a failure train which leads to a bad hire.
The same old retired job description needs a re-work and if you ask how then here is your answer.
The Solution
A well-written description gives the reader a sense of the priorities involved. It is a useful tool for measuring performance and a vital reference in the event of disputes or disciplinary issues.
It is very important to have a simple job application since the applicant is not expected to spend much time with one application. The more accurate you can make a job description, the more useful it is in the future.
A good job description performs several vital functions:
It describes the skills and competencies that are needed to achieve the KPIs;

It defines where the job fits within the overall company hierarchy;

It is used as the basis for the employment contract; and

It is a valuable performance management tool.
But this is not enough.
"You'll be protecting the king's landing."
That's what a JD read and believe you me when I say that this is what enticed the candidate to apply and then accept the offer.
Make the job description communicative not just a monologue of responsibilities. I do not persuade you to go totally informal, but yes I do preach a friendly, relatable tone. For candidates, this small paragraph is the only point of contact they have with the company. They try to understand the company culture, the brand using the thread of these alphabets. Make it captivating, communicate with the prospect's expectations, and then wait for the brimming applications.
Assessment Tools
SMEs & Time constraint 
The Challenge
Since long time companies and start-ups have been hiring candidates with tech skills in an unorganized way- lack of proper expertise, time, and a well-defined competency framework are the challenges recruiters face.
Time Constraint
Let me start by stating the obvious- the more time you invest, the better the candidate hired. The concept of time cannot be differentiated for different roles such as sales, tech, marketing; the funda remains the same; your investment always counts. But here's the catch- who has so much time? Most of the organizations have a time constraint, fitting in too much in too little time makes them compromise with the processes. Recruiters who have lots to manage and look after, find it difficult to follow a thorough hiring procedure religiously. They tend to jump some steps on the ladder to reach the top, and that's where they go wrong.
Subject Matter Expertise
When companies wish to recruit tech candidates, they need people who have the authority in the respective field who can take charge of the hiring procedure. Similarly, when a company plans on building a capability for a new team, it requires experts who perform the task.
But an unawareness of how to manage recruitment better without subject matter experts leads to huge time wastage. When you don't have people with the required expertise in the field you aim to target, then how do you hire at all?
The Solution
Assessment & simulators- A modern tool demands

the least

time and gives accurate results.

Pen & paper- accuracy is not a concern but the time demanded is a lot.

Telephonic interview- They take less time, but then you will have to compromise with the accuracy.

Face to face interviews- here accuracy and time are both risk factors.
This chart clearly indicates that modern assessment tools with a well-structured competency framework, make your investment worthwhile and your approach smarter.
Selection assessments– shall be used to identify the skills that cannot be evaluated in the first step.
The content of these tools follows basic framework-Concept, Knowledge, Application, and Analysis.

The online assessments could be MCQs or Hand-on Simulators.

These tests measure the aptitude, personality, honesty

, and

abilities where a higher score relates to higher job performance.
Selection testing trims down the pool of prospects, now you can conduct the interviews and get the desired match.
Note that these modern tech assessment tools are not just about assessing better but also assists in automating the hiring procedure.
Let us explain this with an example where the company had to hire 10 coders. Following a more organized approach-
Gives the pool of candidates a code challenge on an online platform.

This platform subsequently evaluates the performance based on the various parameters and narrows down your list of options to the best available.
Finding the right match is still a hurdle in the race. With the integration of modern tech assessment tools from various online platforms such as Codility, HackerRank, or Mettl, you can point at the professionals in-demand.
Drop-offs
Pre-interview & Post- selection
Potential IT candidates have so many options to consider, it can be difficult for recruiters to get their attention – especially when it comes to passive candidates. The business leaders struggle to be seen when candidates find themselves choosing between multiple offers.  IT workers are naming their prices and being choosy about where they go. We see pre-interview drop-offs of 40% and the figure for post interviews is 25%. Hence companies and start-ups have to go beyond competitive salaries and get creative about what they offer. Company culture, growth opportunities, perks, and employer branding all play a role in attracting tech talent today.
Employer Branding
The Challenge
Technology employees are generally paid high, so it isn't about money; there is something more to it.
The term first time ever coined by Simon Barrow defines reputation as an employer, it builds an image in the minds of prospects as a great place to work. The employer is the face, the name, and the identity of the company, and branding the employer plays a critical role in attracting talent. According to the Employer brand worldwide survey, 76% of the companies invest in social media in an attempt to build their employer brand. 
Establishing a presence on various social media platforms seems to be a problem for the new start-ups, who have a lot in hand and find juggling things and competing with the already established big companies difficult. It takes time to learn the art of cultivating a rapport with software developers which is now a challenge accepted.
The Solution
To stand out, tech recruiters need to slow down their hiring process and build meaningful relationships with candidates and understand what they look for in new jobs. Build your employer brand online and offline.
Here are some strategies for building your employer brand, with examples from companies that do it well.
Respond to online reviews and Be authentic on social media


This will help portray you as an employee-centric employer. Also, social media provides you with a platform to connect with your potential clients and your employees. Make sure you portray yourself in a good light.
Spotlighting your employees


On a regular basis make it a point to appreciate your techies, recognize their efforts in the various technical challenges

, and

keep them motivated to innovate and create.
Professional Growth
The Challenge
"Employees perform better when the environment is conducive to growth."
A simple sentence but it makes a huge motivational difference.
With the changing technological landscape and newer technologies like artificial intelligence ruling the world, it is mandatory for employers to keep skilling the employees with the required knowledge. But the very idea of skilling and the awareness of a need to invest in candidates is missing in start-ups as well as companies. Research shows that one-third of the new hires quit a job within 6 months of joining. Business leaders concerned about just closing the deals forget to spend time on employee engagement tools, and this costs them a lot in the future.
The Solution
If you think replacing the individual is the solution, then get ready to put in 20% of the employee's salary each time you hire a new candidate.
Employee retention is the way out. To begin with, companies and start-ups should focus on upskilling. The issue is that we view training as a cost, whereas upgrading the skills makes business sense. Business leaders should not underestimate the importance of training need identification. For this very purpose keep in mind the 3 Ws – Why Who and What to train.
Various tools such as assessment & development centers (AC/DC), theory tests, and assessment tests give an insight into the candidate's personality and focus on the areas of development. The work doesn't end here; a follow-up is the best way to ensure effectiveness. The idea of measuring training effectiveness follows the Kirk-Patrick model of reaction, learning, behavior, and results.
Training is concerned with improving performance, be it an individual or a group, thus ultimately improving company performance. Recalibrating the skills of employees along with business objectives via a logical training program will suffice the need.