Identify the Current Skills for Each Job-Family
With the rise of automation, digitalisation and machine learning, IT has a new found meaning, leaving behind some old IT legacies. Organizations in this era of dynamism, cannot neglect to adopt newer technologies, because if they do, then they are nothing but redundant.
Companies are now in a state of war, where each one is seeking the same skill-set that fellow competitors need. The competition for the talent has become fierce with a 2% unemployment rate, which, given the industry standards, is fairly low for tech workers (The Bureau of Labor Statistics).
The market has a demand for both new and mature technologies. Technical recruiters, whose jobs are becoming a growing challenge, need to identify the person with the respective in-demand technological skills and hire him/her. But then again, the huge demand-supply gap adds to their misery. A government report estimates 1 million jobs going unfilled every year. Hence if the employers don't stack up these technological proficiencies in their organizations, then they have already lost the battle against this growing demand.
So, now that you want a sure shot way to fight the war against technology, I say arm yourself with technology. In today's competitive market, the recruiters who wish to hire the right technological fit or wish to upskill, ought to look for these skills and qualifications in their desired match.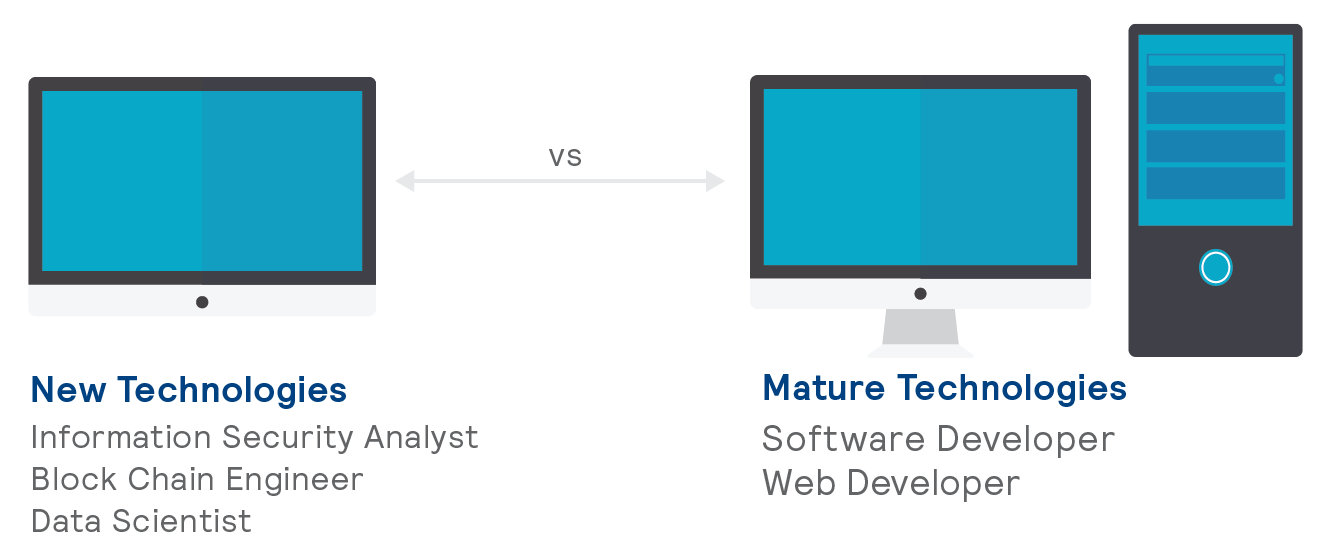 i) New Technologies
In layman term, they are the ones who protect the information system. With the increasing infiltration of networks, there has been a growing need for expertise in cybersecurity. Companies want to prevent their information systems against hackers and cyber-attacks, hence this profile is in huge demand. The Bureau of Labor Statistics shows that the profession is expected to increase more than 28%, resulting in 28,400 new jobs.
They are the ones who figure out how to secure a changeless, distributed database. This role borrows skill- sets from a web developer, database developer as well as a distributed system developer. They design protocols, plan for unfriendly incentives and do a lot of testing of assumptions. Immutable ledger is useful for a lot of applications, but the fact that they are hard to design has led to a high demand for these engineers.
As Big Data and machine learning set their feet in the business world, data scientists are becoming increasingly important in industries from finance to health to drug discovery. A data scientist takes a huge amount of unorganised data and, using her maths, statistics and programming skills, organizes it. After structuring, she analyses the data for insights and finds solutions for company challenges.
He is the person concerned with all dimensions of software development program- from research and design to programming and testing of computer software- he does it all. They are basically the innovative minds of a computer program. There is an expected growth of 30% from 2016 to 2026 for software developers, The Bureau of Labor Statistics.
They are the ones who create the website. When you have a good user experience, thank them for the effort! In this age of digitalization, where everything from buying clothes to food to friends has come online, the position of web developers becomes even more desirable. E-commerce seems to be the main reason for the increasing number of web developers. As we see companies expanding their web presence to satisfy consumer needs and making the purchase easier, more web developers are required to build the websites. The Bureau of Labor Statistics shows that the demand for this profile is expected to increase by 13% till 2026.
Determine the Desired Level of Skills – Consider Job Relevance in Fututre & Employee's Learning Agility
Much before you go about creating a training program to 'upgrade' your current workforce to match the current market demands, you need to think about the people who are undergoing the training – your employees.
Questions like 'Would they be interested in learning the particular topic?' or 'Will they be able to grasp the topic on which they are being trained? often go unanswered which leads to a rift between the expected results and the observations of the training program. In the face of so many variables, how do you decide on whom to train?
Two main factors that should influence your decision of who you want to train in your organization:
i) Job & Skill Redundancy Index
Not all jobs are created equally. In 2013, The Future of Employment, a highly cited study by Oxford University, examined 702 common occupations and found that some jobs – telemarketers, tax preparers, and sports referees – are at more risk than others, including recreational psychologists, dentists and physicians.
To understand which jobs might get redundant in our organization, you have to analyze the different job roles and skills in your organization.
Skill Redundancy Analysis
Mercer Mettl Redundancy
Identifying key factors which lead to redundancy across job roles, creating a redundancy matrix for job roles, based on the score on the redundancy matrix, and ultimately calculating their likelihood of redundancy.
ii) Employee Learning Agility Score
According to the researchers at Teachers College, Columbia University, and the Center for Creative Leadership, learning agility is defined as the mindset and corresponding collection of practices that allow employees to continually develop, grow and utilize new strategies that will equip them for the increasingly complex problems they face in their organizations.
Measuring Learning Agility
From research, it is evident that highly agile learners "excel at absorbing information from their experience and then extrapolating from those to navigate unfamiliar situations." Learning Agility is a measure of an individual's skills that enable him/her to do so. This assessment captures the cognitive abilities required by an individual to use information gathered from past experiences and use them in future.
Mercer Mettl's Test for Learning Agility is based on Learning Agility Simulation exercise which helps measure three primary constructs for Learning Agility.
Learning Speed – speed with which information makes its way to working memory and gets retrieved, which in turn, lead to a specific behavioral response.
Flexibility – measures the metacognitive abilities of candidates, which reflects one's ability to think about her thinking.
Pattern Recognition – measures how individuals identify logics from patterns and solve problems.
Reskill or Recruit?
Now that we are well versed with the top tech talent in-demand, the required qualification and the growth prospects, what are we waiting for, let us grab them?
Recruiting talent is one way to attain technological proficiency. It is tempting to reach out for the shiny ones, but a quick decision may lead to a poorly integrated, underperforming system. Hence, before hiring, assess the skills of the selected candidates via various assessments that test their knowledge in the required field. Once you have evaluated the candidates, it becomes easier and less time consuming to make the best and right decision for your organization.

Sometimes you may also find your match within the company, if you identify high potential employees and reskill them. They are a better bet since they are already aware of your company's working, its environment and will perform with an intention to improve everything. Decide wisely between recruiting a new person or upskilling an existing employee, keeping in mind long-term business goals.
According to the Latest workplace L&D report published by LinkedIn,
In this era of growing demand, time is money, you cannot afford to waste it. Automating the hiring process with modern approach has complimented your time and money equally. Modern assessment tools make your investment worthwhile and your approach smarter. You may ask me- How?
Sourcing- this is by far the most frequently cited challenge by hiring managers. Be stellar and optimised to source. Modern recruitment platforms such as Facebook, LinkedIn, community events and hackathons represent an outbound sourcing strategy, going offline and meeting people is also a way to source candidates. These tools have increased the visibility and expanded the pool, hence attracting talent has become easier and less time-consuming.

Selection assessments- are used to identify the skills that cannot be evaluated in the first step.

The content of these tools follows a basic framework-Concept, Knowledge, Application, and Analysis.

The online assessments could be MCQs or Hand-on Simulators.

These tests measure the aptitude, personality, honesty and abilities, where a higher score relates to higher job performance.

Interviews- selection testing trims down the pool of prospects, now you can conduct the interviews, either telephonic or face to face and get your ideal match.
Filtration and Selection
The modern approach has a 2-fold motive- filtration and selection. For instance, you have 25 people, now this automated platform, by conducting assessments, will not only filter the high and low performers, but also give you a comprehensive score as a submission of all values, and hence aid selection.
Let me explain this with the same example where a company had to hire 10 coders. So, now instead of following the lengthy traditional approach, the company follows a more organised system.
It gives the pool of candidates a code challenge on an online platform.

This platform subsequently evaluates the performance based on the various parameters and narrows down your list of options to the best available.
The integration of internet with different platforms- mobile, cloud, social or big data has made tech flourish in all shapes. Finding the right match is still a big hurdle in the way. With the integration of modern tech assessment tools from various online platforms such as Codility, HackerRank or Mettl, you can point at the professionals in-demand.
This way you have your list of the desired candidates in the most efficient way.
The Modern Reskilling Approach
How to train your current employees in a way that business objectives are met, and you get a high return on investment of the training program – an eternal question asked by stakeholders in the L&D department throughout the world.
The challenge can fundamentally be broken down into two pillars:
i) Creating the Right Training Program
Identifying the upcoming Job Family/Skill Level Grouping in an organization

Creating a competency framework for every job

Identifying the jobs that are slated to be obsolete in the upcoming years

Assessing the employee's domain knowledge in order to align the training program with business objectives

Assessing the employee's motivation to ensure it results in the mutual benefit of both the organization and the employee.
ii) Delivering the Training Program Right