Set a Clear Objective
Setting expectations at the beginning of a working relationship is vital to a thriving, productive team. Sharing his belief on the same, Kristen David, Founder and CEO, Upleveling Your Business LLC says, "It is important that a business owner or organization gets clear on the culture they want to build, so they can create an atmosphere and work environment that is conducive to those core values."
Setting a clear objective for an employee engagement strategy, in the beginning, is essential. Employee engagement for employee engagement's sake can lead to unproductive entitlement. Your program must be grounded as per the organizational direction. Uncommon Consulting Founder Julie Lynch explains the difference in approach while encountering different situations. For instance, if the organizational goal is to retain your current employees, seek to measure and address their current levels of involvement, enthusiasm, and commitment.
On the contrary, if the organizational goal is to transform the business model, then your engagement strategy should be different. In this case, the organization would want to know how to keep the workforce involved in, enthusiastic about, and committed to a new business model. The two scenarios would require vastly different measurement and strategy. Taking the time to define your objective clearly, steps, and milestones will ensure that you can reap the full benefits of a strategic and considerate employee engagement program.
Identify the People to Be Engaged
Every employee has a unique skill set and need; some require more engagement than the others. Rolling out employee engagement activities across verticals can be time-consuming and even costly for the organization. So, before implementing the engagement program, organizations must determine which employees need to be engaged. This will, in turn, assist the HR department in customizing the program and enable them to take a more targeted approach towards engaging specific individuals. While some employees may need more engagement, every employee needs feedback so they can thrive. In their book 'Thanks for the Feedback,' Douglas Stone and Sheila Heen outline how employees need appreciation, coaching, and evaluation. Depending on how an employee is performing, they might need more coaching than others. This is where you create an employee improvement plan that will help them reach their goals so that they outperform in every aspect of their job duties. A key to determining who needs what is to hold quarterly evaluation reviews. Hence, each quarter there is an open dialogue to help the person recognize where they need to step up, as well as allow the employee to ask questions and give feedback on their own.
Build Relevant Competency Frameworks
Companies of different sizes have different techniques on how they proceed with a framework. In a start-up, often, one employee is wearing multiple hats, whereas, in a large-scale corporation, roles are rigidly defined. Hence, job descriptions are vital in giving clarity as to what an employee is responsible for doing on a daily, weekly, monthly basis. Once organizations have clear job descriptions based on the job roles, levels, and functions, you can seek help from experts who can help you define competency frameworks.
Role-based competency frameworks are beneficial in the planning phases. Hence, it is imperative and crucial for organizations to outline frameworks in a manner that encompass job-based skills, behavioral, and cognitive aspects required to fulfill the job at hand. The skill sets and expertise of the people who work in various job functions will have a crucial role in the success of your employee engagement program. In conjunction with this, it is beneficial to define what responsibilities belong to each assistance area.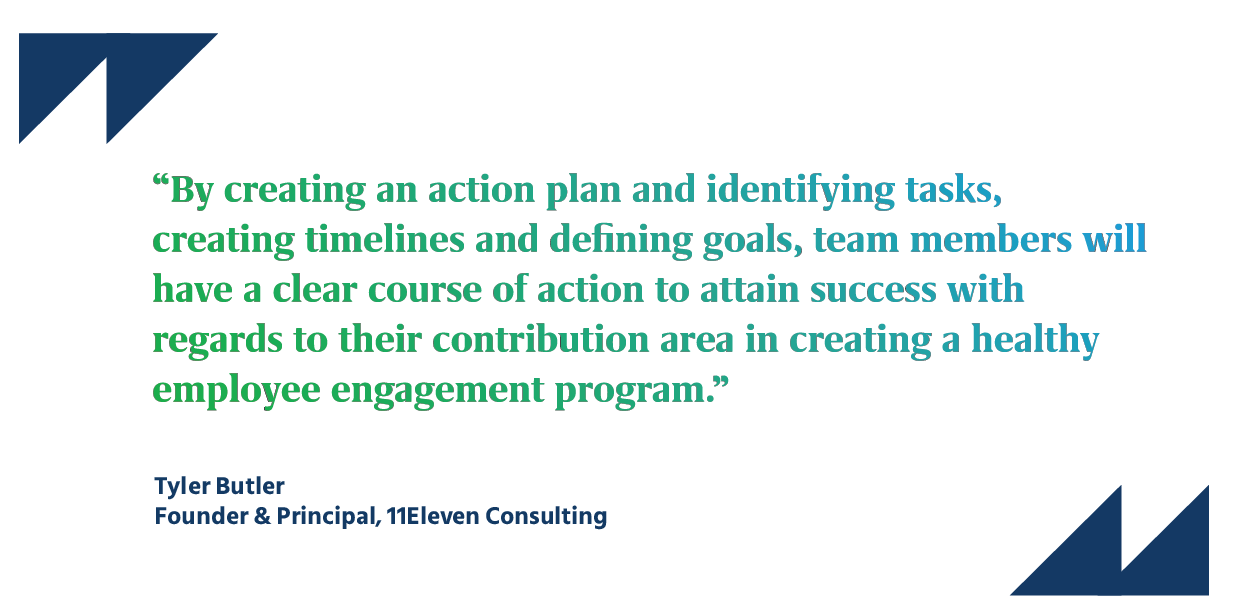 Use HR Technology to Assess People
HR technology has revolutionized the way organizations conduct employee engagement. Corporates can now implement a 360-degree feedback tool to understand the development needs of the employees.  The tool gives a holistic view of an employee from multiple lenses, i.e., manager, peer, subordinate, or client. Based on the feedback, the tool rolls out individual and group development reports. Following the development paths can keep the employees engaged in the long run since the report highlights strengths, weaknesses, blind spots, and areas of improvement.
Internal hackathons and ideathons are another means to keep the employees engaged, facilitate teamwork, and promote a culture of creativity and innovation. They enable employers to look at employees from a different entrepreneurial perspective.  They are an excellent means to reveal the employees' potential and bring innovative measures to the table while maintaining data privacy. Ideathons encourage participation across verticals and contribute to the ever-changing world of technology and business.  In building a future-ready brand, team, or product, ideathons help in accelerating the process of innovation, thus cutting down the number of days required for the process.
Build Targeted Development Plan
Emphasizing the importance of an individual to business, Uncommon Consulting Founder Julie Lynch says, "Research shows that only 55% of engagement is attributable to external factors (leadership, environment, management. 45% is attributable to the individual's qualities – which can be developed." We are missing half the engagement problem if we're not focusing on the individual, she adds.
Each person has strengths and weaknesses, and it is important to cultivate each person on an individual basis. As much as it is necessary to hone the strengths of individuals, it is also important to recognize the weaknesses and help the person build up their aptitude in that area. A key area in which almost everyone can benefit from increased development is leadership. As each member of the team levels up, the business runs more efficiently and profitably.