With the shifting paradigm of the workplace, workforce expectations are also evolving. We must consider that the remote workforce is also grappling with the unexpected change. Businesses now must provide means to keep the workforce productive, engaged and motivated. Creating a roadmap for employees would give them a direction and keep them engaged in these unprecedented times. Employee engagement in the current situation can be achieved by:

Ideathons and Hackathons
Hackathons are a means to keep the creative juices of the workforce flowing. They provide a remarkable boost to employees' morale. Employees find innovative solutions to organizational problems as part of hackathons and ideathons that can be technical and non-technical. The approach of rewards and recognition inculcate curiosity and interest in employees. This eggs them to curate out-of-the-box solutions to a given business problem. The fast-paced activity brings together a diverse set of people to decode organizational hitches. Participants take a responsive and agile approach to build solutions. The leadership then rewards the best prototype. 
Click Here to Know More about Hackathon as an Employee Engagement Tool
Learning and Development Initiatives
Companies must devise ways to continue investing in the learning and development (L&D) of their employees. Training and development are intricately linked to a sense of motivation, which drives people to perform better. Employees feel valued knowing that their company is invested in their growth. Even though the current situation might have hampered ongoing processes, organizations must not neglect their workforce's learning needs.
Growth opportunities play a crucial role in keeping the employees invested in their jobs. Top performers value companies that prioritize their career paths and customized L&D initiatives.
Future of Work Priorities for HRs in 2020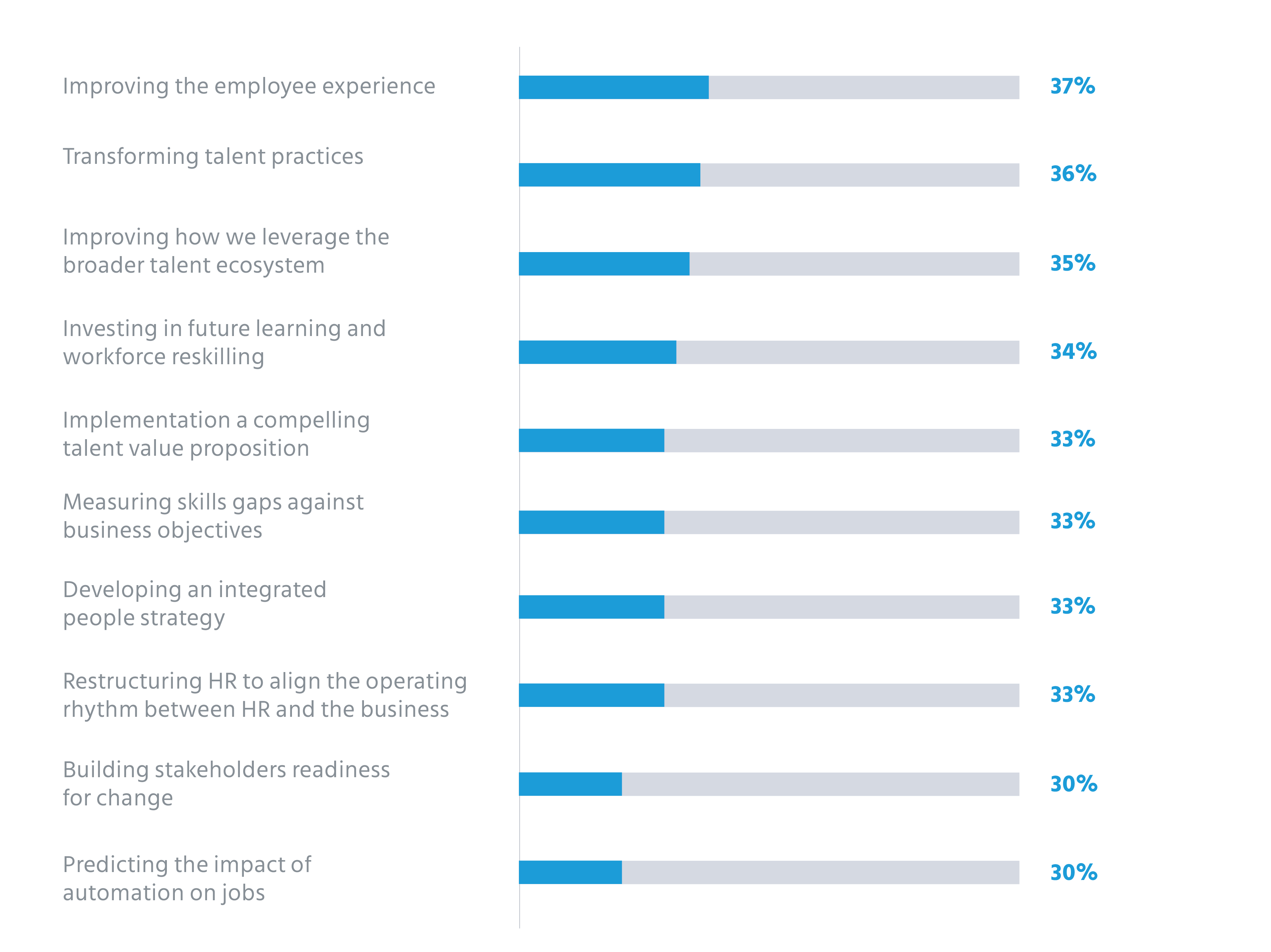 Source: 2020 Global Talent Trends
As per 2020 Global Talent Trends, improving the employee experience and transforming talent practices are this year's top priorities for HRs. HR leaders plan to take a targeted approach by focusing on future learning and workforce reskilling to achieve them.
With more time on hands, there is a massive scope of identifying skills gaps and training employees on newer technologies or models. Additionally, training should be complemented with online certification as it provides a sense of accomplishment to employees.
Corporates can encourage the workforce to deliver quality work by ensuring the learning and development initiatives don't remain limited only to training. Rewarding the workforce with certification after successful completion of training gives them a sense of achievement. Knowing that the employer duly recognizes their time and efforts, employees' tendency to participate in the L&D program increases significantly.
An online certification implies that the individual possesses specific characteristics, validated by an external assessment or review. It corroborates if individuals possess the necessary skills to perform proficiently on-the-job. A certification system enables learners to acquire critical skills that would enable them to stand out. Employers equally value people who are driven by a continual urge to learn and grow in their careers.
The modern-day workforce is mindful of the growing need to gain proficiency in a particular field even if it entails upskilling themselves. The certification platform provides a flexible learning path which professionals may take up simultaneously, with their ongoing work. It is an effective means to widen one's abilities in a competitive world.
Certifications have become integral to employee development in almost every industry, including information technology, supply chain, finance, engineering, or management. The reason can be attributed to the fact that the certification system benefits both employers and employees.