Mercer | Mettl offers a unique advantage for both recruiters and candidates- The ability to administer live coding interviews quite naturally on a dynamic coding interview platform. This platform lets recruiters build various coding interviews without having to toggle back and forth between different platforms. 
Mercer | Mettl's coding interview platform grants interviewers the ability to view, interact, and supervise the coders online as they attempt the programming challenges. It runs virtual technical interviews with a unified online code editor, compiler, an audio-video conferencing tool, a whiteboard, and video analytics. Functions such as multi-language support, chat support, easy API integration with ATSs, versatile coverage of coding languages, simulation, and test history, help widen a company's talent funnel. Provisions such as location-agnostic, customization, hands-on skill support, swift auto-evaluation, result validation, and proficient tracking of the tech hiring funnel enable quality online interviewing and hiring at scale. Hence, when companies are looking to be agile, using an online coding interview platform is an excellent way of evaluating the candidate while interviewing them, 
There is more. 
Mercer | Mettl's coding interview platform is a state-of-the-art tool and supports more than twenty popular programming languages. It works well with the code editor, code executor and code intelligence. This live coding interview platform comes as a boon for tech recruiters to accurately evaluate the coding skills of the interviewees. The platform offers a vast array of coding skills tests and an advanced coding simulator and video interview questions for an in-depth assessment of the candidates' coding skills within the given time. It also includes:
Data Analysis: 
The live coding interview platform also gives interviewers the option to assess candidates using data from previous screening rounds on the same platform. This comprehensive assessment with feedback from multiple rounds makes interview analysis and decision-making reliable, fast, and way more effortless than before.
Digital Ideation Using Inbuilt Interactive Whiteboard and Notepad:
Interactive whiteboard and notepads on the coding interview platform act as collaborative substitutes to share, draw, discuss, decipher, and digitally ideate with your candidates as smoothly as you would offline but with a little more flexibility.
Comprehensive Scoring and Reporting:
Understanding the strengths and vulnerabilities of the coders is vital for making the right hiring decision.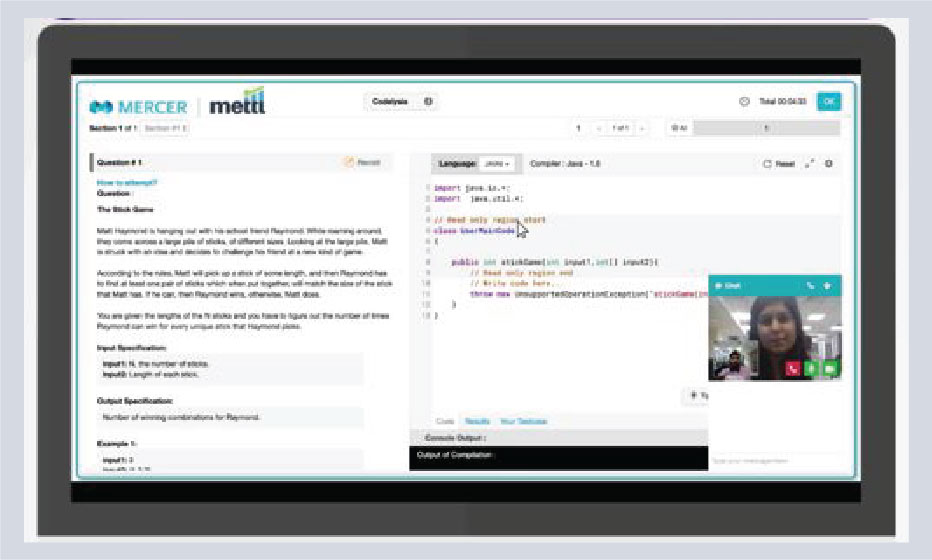 It will be a beneficial method if you want to conduct remote interviews with the ease of face-to-face interviews. Live coding interviews provide you with some excellent tools such as live coding evaluator, collaborative tools like notepad and whiteboard that simulate real face-to-face interview processes.
Where do coders write their codes on an online coding interview platform?
The online coding interview platform enables coders to type their responses by giving them access to coding editors on the simulator screen.
What coding language is used for technical interviews?
Mercer | Mettl's online coding interview platform is language agnostic. With access to more than 20 programming languages, the platform's language tool enables the coders to code in a language of their preference.
Under this system, you can predefine the set of interview questions for each of the defined competencies for a specific role. You are then required to record a clear video response for each of the given problems and save it systematically on the platform. After the interviewee has submitted the answers, evaluate the video responses as per your convenience.
---