Sensing phase 1: Defining the objective
Organizations should have clarity about why they want to use an assessment center development center. Concerning the various applications and possibilities elaborated in the previous chapter, an ACDC can be employed for more than one objective. A clear goal ensures that the rest of the steps follow without challenges. Choosing a type from the various assessment center examples, shortlisting the assessment and development center exercises, designing the type of questions, etc., all depend on the goal of an assessment center process.
Sensing phase 2: Underlining the job levels
The methods to assess and develop individual contributors, first-time managers, mid to senior-level management, and leadership positions vary. Ideally, the exercises must accurately reflect the variety and demands of the target role. Also, subject matter expertise is critical to establish better-suited roles for a particular assessment center technique.
Sensing phase 3: Choosing a competency framework
If organizations need to identify the skills required by the workforce to be effective in a target role, they should begin by analyzing the factors that aid employee performance. For example, competencies such as problem-solving skills, collaboration and creativity may be essential for a certain job role. However, competencies such as adaptability, strategic vision and people skills may be a priority for another job role. Hence, setting up a relevant, role-specific competency framework is crucial for the success of an assessment center process.
Sensing phase 4: Mapping competencies to relevant tools
Subject-matter experts specializing in assessment center tools and activities can help correlate various competencies to relevant assessment center exercises.
Exercises for an assessment center in HR can include situational judgment questions, personality, cognitive tools, case studies, group discussions, role-plays and various other simulation tools, online and offline. However, your assessment and development plans would fail to deliver quality results if you do not have in-depth knowledge of these tools.
Here's an example of competency-tool mapping in a virtual assessment center development center:
Step 2: Customization of tools
After the completion of the first three sensing phases, experts customize the assessment center tools to match the organization's requirements. After evaluating and validating these customizations, the company is ready to roll out the assessment development activities.
Step 3: Administration and management
This step involves the deployment of resources, setting up the systems and appointing assessors. The logistics and duration of this step depend on the type of assessment center chosen by the organization. A physical assessment center's administration and management requirements vary significantly from its virtual counterpart or a blended ACDC alternative.
Step 4: Offline activities (In case of blended assessment)
On the day of in-person activity, candidates engage in individual and group exercises onsite, in the presence of trained assessors. The assessors observe job-specific behaviors and rate participants accordingly. The assessors then collaborate their offline and online ratings in the form of a report. A short debriefing may happen on the day of the assessment center, but detailed developmental feedback occurs after the report generation.
Step 5: Report generation
Assessment center reports serve as a benchmark for employee development plans and personnel selection. Observations about behaviors and performance are made using specifically developed assessment simulations. Further action depends on these reports' comparison and analysis.
Here are examples of insights provided by an assessment center report: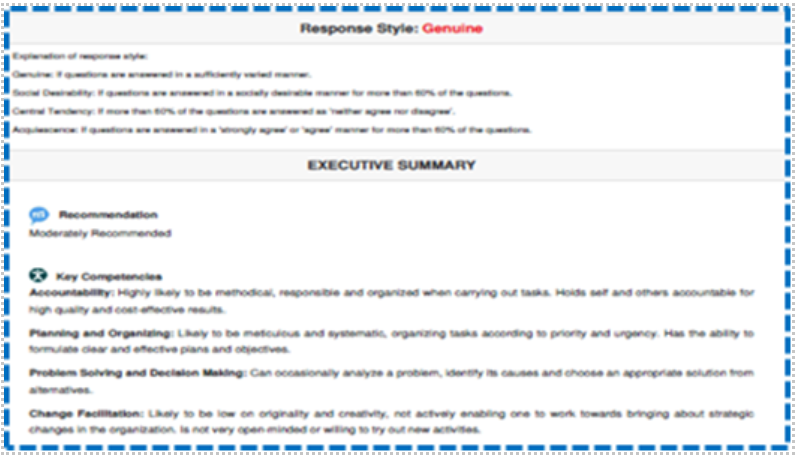 ---