Here's a rundown of some of the important versions of these tests:

1. Myers-Briggs Type Indicator –
Sometimes, people use terminologies such as INFJ or INTJ to describe themselves, which leaves the majority with the question: "what those letters mean''? These refer to the Myers-Briggs Type Indicator (MBTI) personality types.   
The Myers-Briggs Personality Type Indicator is a type of psychological test that identifies major aspects of a person's personality, considering his/her personality type, qualities, and inclination. This self-report inventory is a brainchild of Isabel Myers and Katherine Briggs and is inspired by Carl Jung's theoretical works. The MBTI inventory is widely considered to be the most common method of psychological measurement.

2. The Story Behind the Myers-Briggs Test-
It all starts with the story of a mother-daughter duo working on an idea based on Jung's theory of psychological types. Isabel Myers, along with her mother Katherine, realized the possibility of creating real-world applications using this theory. Amid the Second World War, Myers and Briggs started working on an indicator that could be used to understand psychological differences between individuals. By helping individuals to understand themselves better, Myers and Briggs thought that they could help people in making the right career decisions based on their personal preferences.
In the 1940s, Myers developed the first rudimentary version of the MBTI inventory, and the duo started pilot testing their assessment on near and dear ones. Over the next two decades, they continued working towards the development of this instrument. Carl Jung, a notable Swiss psychiatrist, proposed that four psychological functions that inherently influence how people perceive the world are sensation, intuition, feeling, and thinking – most of the time a person exercises any of these functions. Along these lines, the test is divided into four categories: Introversion/Extraversion, Thinking/Feeling, Sensing/Intuition, and Judging/Perception. It should come as no surprise if each test-taker exhibits one preferred quality from each category, which would produce 16 unique types.

3. Overview-
Depending on the candidate's response to the questionnaire, it becomes easy to determine one's personality from the sixteen personality types.
The MBTI is designed to evaluate candidates' responses to gain a better understanding of their personalities, not to mention their strengths, weaknesses, likes, dislikes, compatibility with others, and career expectations. Labeling any personality type as "better" or "best" is not the correct approach. This tool doesn't check for abnormality or dysfunction. Instead, it helps you explore untouched aspects of your personality.  

4. Here Are the Four Types of Scales That Constitute the Questionnaire-
a) Extraversion (E) – Introversion (I)
The EI concept was first introduced in the Jungian personality theory, referring to the reasons why people interact and respond in a certain way. Even though these terms are not new to many, how these are used makes all the difference. Extraverts, often pronounced extroverts, are action-oriented, socially inclined, and feel happy to interact with other people. On the contrary, introverts are thought-oriented, deep thinkers, and can happily spend time alone. All humans exhibit either introversion or extroversion to some extent, but there's always an underlying preference for either of these two dimensions.
b) Thinking (T) – Feeling (F)
This scale emphasizes people's approach to making decisions based on information collected by them using their intuition or sensing functions. People who are categorized as thinkers give particular importance to objective data and factual information. They are known for their logical and unbiased approach while considering a decision. Those people who are more receptive to feelings than thinking consider emotions when concluding.
c) Sensing (S) – Intuition (N)
This scale points to the way humans collect information from the outside world. Humans must rely on their sensing and intuitive capabilities, much like extraversion and introversion. The test suggests that people usually are dominant in either of these two areas. Candidates who tend to prefer sensing possess strong attention to detail and focus on important facts while chucking unimportant details. Those who prefer relying on intuitions are good at finding meaning in impressions and patterns. They can't stop looking for possibilities, abstract theories, and future potential. 
d) Judging (J) – Perceiving (P)
This scale includes those people who can handle things effectively. Those who tend to rely on their judgment abilities are good at making structured and unwavering decisions. On the contrary, people who adopt a perceptive-oriented approach are open-minded, adaptable, and flexible. Those with the judging preference care for things to be neat, orderly, and well-defined, whereas those with the perceiving preference showcase a spontaneous and flexible nature. 
Each of the 16 personality types is expressed by a four-letter code as given below:
The Myers-Briggs test reveals important aspects of human personality and provides deep insights, which is why an MBTI-based personality test has gained immense popularity in today's times. Accordingly, the Myers and Briggs Foundation emphasizes that all personality types are equally important. For example, working in a close group at school or work will become even more fruitful by using this test for realizing the positive traits of each member of the group. While performing a group activity, this test proves immensely helpful in ascertaining the particular strengths and talents of each member, which further helps in task allocation and assigning tasks with the utmost ease. This way, team members can work collectively on achieving organizational goals.

5. Trait Theory-
The next in line is the trait theory, popularly known as the five-factor model (OCEAN model). Today, many researchers believe that five core personality traits are the pillars on which this theory is established. Even though the groundwork for this theory was laid many years ago, starting with the research work of D. W. Fiske, it has been subsequently addressed in the works of Fiske, Norman, Smith, and more. The "big five" categories of personality traits are easy to remember by an acronym OCEAN, which stands for openness, conscientiousness, extraversion, agreeableness, and neuroticism. Another most commonly used acronym is CANOE, which means conscientiousness, agreeableness, neuroticism, openness, and extraversion.
It is worth noting that each of the big five factors ranges between two extremes. For instance, extroversion represents somewhere on the spectrum between extreme extraversion and extreme introversion. Most people tend to fall between these two extremes. 

6. Listed Below Are the Big- Five Categories-
a) Openness
Driven by such characteristics as insight and imagination, people who rank high in this trait are said to have a broad range of interests. Their curiosity, eagerness to learn and experience new things know no bounds. People high in openness are creative and adventurous, whereas their counterparts resist change and are analytical.
b) Conscientiousness
This trait is rich in features like thoughtfulness, goal-oriented behavior, and strong impulse control. People high in conscientiousness are organized and pay strong attention to details. They think well in advance and meet their deadlines effectively. They are more considerate of others than their counterparts.
c) Extraversion
This trait is characterized by features like sociability, assertiveness, garrulousness, high emotional expressivity, and spiritedness. Extraverted people are socially inclined to meet new people and enjoy partaking in social settings. Social interaction makes them feel energetic and lively. Introverted people tend to focus on their inner thoughts, and feelings, rather than sticking to external sources for motivation. They would prefer a period of solitude over a bustling party.
d) Agreeableness
This personality trait is noticeable in individual behavioral attributes that are affection, kindness, trust, and selflessness, among others. An agreeable person is likely to be more altruistic than those who score low in agreeableness. The latter can come across a manipulative and highly competitive person.
e) Neuroticism
This personality trait includes conditions like sadness, mood fluctuations, and emotional distress. People with neuroticism often deal with rapid mood swings, anxiety, melancholy, and short temper issues. People who score low on this trait are said to be more stable and emotionally balanced.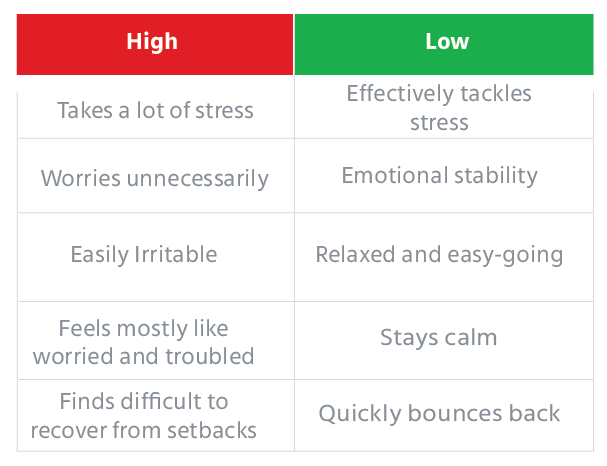 The big five personality test is an accurate, precise measurement of the big five personality traits and won't take too long to complete. The test-taker can be assessed for Openness, Conscientiousness, Extraversion, Agreeableness, and Neuroticism. The interpretation of the test scores can explain how the Big Five model can be applied to life, professional, and personal relationships. 
This scientifically-driven model has made the classification of different types of personality an easy task. It is also very popular among researchers and psychologists. The big five personality test is easy to use, including steps such as rating each statement that well describes the candidate's personality. However, it is imperative that the candidate rates himself/herself honestly – ratings should be based on how they actually are, not how they would like to be. The ocean personality test is also one way of describing the same trait theory. 

7. Career Personality Test-
Career planning is not an overnight thing; it's a process that requires candidates to understand their skills, interests, and potential. Even though most people find it a bit arduous to define their priorities regarding the kind of profession they want to opt for or their specific interests. That's where a career personality test comes in handy. This practical assessment helps a person in sorting out their career preferences as in what works for them and what kind of career they're looking for in the long run. This test can be used for various purposes as given below:
Identifying the most suitable careers and professions 

Increasing self-awareness 

Exploring new areas of career development

Understanding organizational structure and process

Inculcating team-building skills

Leadership Training and development

Relationship consultation

Education consultation

Managing Diversity 

Problem-solving
Following are the eligible ones, ideally suited for the test:
Working Professionals

University and college students

Anybody who wants to gauge others' personality to understand their working style and preferences

11-12th class students